International Diploma Students - Hypnotherapy Course

Increasingly, students are travelling from abroad to the Uncommon Knowledge hypnotherapy course. For those of you considering making the journey, here are a few tales from our overseas students:

Budapest, Hungary To Brighton



Such a course of course does not exist in Hungary! But as there are no native English hypnotherapists the investment in travel will certainly be worthwhile!

I fly with the budget airline Wizz Air to London Luton and from there I usually get a coach to central London and stay with friends. I drive down to Brighton with another student from the course. Many people live in London who participate on the course and I think it is fairly easy to get a lift share. Once in Brighton I usually stay in a hotel with many others from the course and the evening meals are a fantastic time for bonding and sharing practice experience.

It seems like a big deal to travel back to London every month but I have to say it is usually my best weekend in the month!

Book flights in advance and I am sure once you meet people on the course you will be able to find out where other people stay and maybe even find another student to stay with in Brighton.

On top of the course cost I pay about 150.00 pounds in flights, petrol, coaches and hotel.

Nia Clowney
---
Amsterdam to Falmer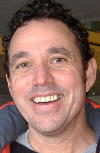 I'm am Etai, from Israel but I live in†Amsterdam and I am a student on the 2008 Diploma course. Getting there and back for the weekends is as easy as can be (faster then some of the locals).
I fly with Easyjet (which costs about 60-80 euros ) and it is about a 45 minute flight to Gatwick airport.
I then get on a train to Brighton for 30 minutes and then a short and easy train ride, the next day to the campus.
In Brighton I stay with sister of a friend so I pay them cost + breakfast £25 p/n A cheap solution for accommodation I know of is:
www.st-christophers.co.uk/brighton-hostels
Tips:
Book your flight in advance it will be cheaper.
If you not an EU resident, have the name and address of the place you stay in Brighton handy.† It will be asked for in passport check in the airport.
---
Vilnius (Lithuania) to Falmer

Buying e-tickets from Vilnius to London Gatwick is easy. I get them on-line from home and just need to arrive at the airport with my identity card. There are two direct flights leaving from Vilnius early afternoon. I cannot make my return flight on Sunday, so I have to stay in England for three nights arriving on Friday and leaving on Monday.
The flight takes about three hours. I can buy a train tickets before getting back my luggage so afterwards I do not need to queue when coming to the train station. I then travel from North to South terminal and I get a train that goes to Brighton. After watching lovely English countryside for about half an hour I find myself in Brighton.
I have my room reserved in the Imperial Hotel on the First Avenue. On my first visit I got some directions of where it was from the railway station information centre and I popped into a book shop for getting a guide on Brighton. The hotel is almost on the sea front and only costs £35 per night! The rooms are not large but clean and with a bath tub. Nice large white buildings around, a sound of seagulls, people walking dogs in the morning hear the sea. It suits me well- a feel of holiday and anticipation of something new...
The next morning I began my journey to Falmer at about . The hotel staff explained where the nearest bus stop is which is Palmeira Square. There are two busses to Falmer each hour. (make sure you go on the right side of the road!) The bus ride takes about 45 minutes.
After the classes, I get a lift to my hotel. It turns out that there are several of us staying in the same hotel. How good, we can spend our time together in evening! Also there are always people who can give you a lift when going to training in the morning. Now we always arrange with others so we can stay together in Brighton :-).
Find out more about
Travelling Internationally to Brighton
International Diploma Students - Hypnotherapy Course >
Hypnotherapy Course Intro