| | |
| --- | --- |
| Free depression treatment telephone seminar | |
5 Things You Must Do When Treating Depression
(and 3 things to avoid!)
Know exactly what you need to do with your very next depressed client and help them so much more effectively
Free manual for attendees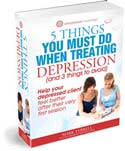 Depression can seem an impossible problem to treat at times, and it can be a depressing and upsetting process watching your client struggle on under their black cloud. You spend hours thinking about their situation, only to have every attempt rejected by their negative mindest.
It can be so much easier though. With the right knowledge you will understand so much more clearly exactly how you can help your depressed client quickly, and what they can do to help themselves.
In this 45-minute teleseminar Mark Tyrrell (who created the Depression Learning Path and the Depression Recovery Program) will give you tools to make your very next depressed client feel better from their very first session. Including...
a vital question to ask in the very first session (other than the suicide question of course)
how to gently but definitely motivate your client against their depression
how to erode the beliefs that keep depression in place
3 solution-focused questions that can turn a session around
how to use the incredibly powerful 'cycle of depression' model
PLUS! All attendees get free manual on the '5 Things you Must Do when Treating Depression'). Once you sign up below, you will receive information on how to join the call.
New dates to be announced soon - watch this space!