Smoking Cessation Training Home Study Pack
How to Stop Anyone Smoking - a certificated course for therapists with audio, video, online resources and testing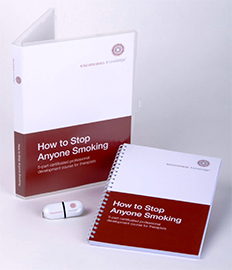 Learn how to turn smokers' natural resistance against the cigarettes
Discover how to make the smoker take responsibility for quitting
Take the pressure off the smoker from the very start to maximize your success rate
At first glance, smoking cessation treatment might seem like an easy job. After all, everyone has the same problem and all you need do is your standard 'quit smoking' session. Right?
Well, anyone who has treated smokers for any length of time knows different. Smokers can be infinitely creative in finding ways to keep smoking; unbelievably argumentative in their drive to protect their addiction; astonishingly self-defeating in their defence of their habit.
And as you have probably noticed, even if your smoker agrees with everything you say, and appears to be taking it all to heart, a hidden inner resistance may be at work, sabotaging your every effort.
Do you ever feel like your smoking clients and their cigarettes are ganging up on you?
Running smoking cessation sessions can feel like an unfair fight. Like there are three of you in the treatment room and it's you against your client and their cigarettes. No matter which way you turn, how you circle round, wherever you try to make your attack, there's always one of them there fighting back. Hard.
That's why smoking cessation treatment, despite its vital importance to the health of the client, can come to feel like a thankless chore to the therapist. How often do you hear things like:
"It just didn't work for me"
"I don't think I'm ready to stop smoking quite yet"
"It must be genetic"
"I only had one cigarette, it was such a bad day"
And perhaps the worst...
"The trouble is, I really like smoking"
That last sentence can strike fear into the heart of many a competent hypnotherapist or smoking cessation expert.
But it doesn't need to.
Change the game: how to get the smoker to team up with you against the cigarettes
All of the above is human nature. Addiction and habit are normal behaviours that operate out of reach of the conscious mind. Which is why your smoking client seems so unreasonable; so self-defeating; so maddeningly contrary!
What is needed here is not a few new techniques, but a totally new approach. One that sidesteps all the resistance and gets the smoker on your side - against their smoking habit. Like letting go of the tug-of-war rope, when there's nothing to pull against, the 'game' is over.
And of course, when you feel more confident about your smoking treatment program, your own creativity will be set free, making every session much more enjoyable.
Revolutionise your smoking cessation treatment so you enjoy it (and your client does too!)
The very first thing you will learn on How to Stop Anyone Smoking is a new way to think about helping people stop smoking. An empowering new mindset for you that will evaporate any old beliefs about smoking cessation and free you up for a fresh understanding of how smoking works.
Look forward to every 'quit smoking' client
Every time you use the Uncommon Knowledge system to treat someone for smoking, you will be fascinated to see their habitual behaviour through your new lens of understanding. The rationale for previously baffling responses, actions and arguments will become crystal clear. And what to do about them will become obvious.
Take care of resistance at the unconscious level
Let's face it, nobody consciously wants to smoke. But they act as if they do. As we all know, emotions are powerful things, and that's why smoking is so pernicious. It hijacks natural human processes and uses them to its own advantage.
This is why How to Stop Anyone Smoking will show you how to change attitudes to smoking at the unconscious level. After all, trying to change beliefs by arguing with them is like trying to kill weeds by pulling their leaves off. Until you get rid of the root, they will always come back.
Although we don't encourage the use of hypnosis scripts in the session itself, we will be giving you the full 10-script set from '10 step to become a non-smoker'. This is a self-service version of our system and will enable you to practise your new attitude-changing methodology so it becomes second nature.
Despite what the 'experts' tell you, some smokers just do relapse
Despite what you may have read in the marketing material from smoking 'experts' marketing material, it is impossible to ascribe a particular success rate to any one smoking cessation treatment protocol, because so much depends on the individual practitioner.
Rapport is everything in any therapeutic interaction, and so one practitioner may succeed where another fails - even when they use precisely the same words. The unspoken part of your communication is just so vital.
And this includes your expectation. If you wholly expect your smoker to stop smoking, this goes a long way to creating success. In addition, it is essential to maintain good rapport with your client throughout the smoking cessation process. And this is another key element to the Uncommon Knowledge system.
Your mindset changes everything
The approach you learn on How to Stop Anyone Smoking will enable you to maintain high levels of rapport with your client; to collaborate with them against the cigarettes so they feel that you are on their side, rather than trying to take away something they love. You can imagine how this changes everything.
And if your smoker does relapse, you will have tried-and-tested responses to hand which will gently steer them back onto the road to non-smoking.
Now more than ever people are waking up to the need to stop smoking and they are looking around for help. They urgently need someone who really does know how to help them effectively. They are looking for you.
Helping someone stop smoking may be the most important thing anyone ever does for them. Adding healthful years to a person's lifespan and enhancing their quality of life dramatically is no small thing. You need to get it right.
How do Uncommon Knowledge distance-learning courses work?
The smoking cessation training course is delivered through a series of five recorded audio presentations, with accompanying transcripts and worksheets.
When the course begins, you are given access to our online training centre, the Knowledge Lab. Inside this private member's area, you have access to forums where you can discuss the course with the tutors and your fellow delegates, real client video sessions and complete the self-test quizzes to make your learning experience effective.
Read more on how our home study courses work here
Experienced course tutors
| | |
| --- | --- |
| Mark Tyrrell | Roger Elliott |
The course tutors are Mark Tyrrell and Roger Elliott, founders of Uncommon Knowledge. Mark and Roger have designed and delivered thousands of hours of training, both face-to-face and online since 1998. You will find they add a light touch and a clear perspective to the subject. You might just laugh too!
What you get with the Home Study Pack
Course workbook with:
Checklists to work through for each Session
Transcripts of lectures
Overviews and Summaries of each session
A list of supporting materials (Toolbox) available for each Session
Your Toolbox (USB stick) containing:
5 studio-recorded audio lectures
Mind-setter mp3 "Success with Smokers" to use before your smoking client arrives to get yourself in precisely the right frame of mind
Psychology audio insights "Beating Addictions and Smoking with Hypnosis", "The Utilisation Technique" and "Dealing with Resistance" from HypnosisDownloads.com
10 hypnosis scripts from our online "10 steps to be a non-smoker" at HypnosisDownloads.com, plus the audios to go with them, total value $194
13 supporting articles and documents in pdf format
A summary document "Key Reframes and Metaphors" of all the powerful reframes and metaphors you will use
A clear outline of the Uncommon Knowledge smoking cessation process so you know where you are going next, at every stage of the session
Three video clips by Mark Tyrrell explaining various steps of the process.
Live smoking session videos with perhaps the trickiest client you've ever seen
Your own private forum, for on-going discussion with colleagues and course trainers
Self-test quizzes to embed your knowledge
Post-course support and community in the 'Lab Lounge' where you can mix with other delegates from the smoking cessation course and others
Certificate of completion: On successful completion of the course, you will receive a personalised certificate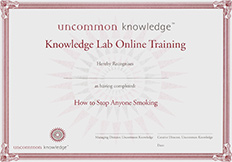 Prerequisites for attending 'How to Stop Anyone Smoking'
To attend the online course How to Stop Anyone Smoking you must have at least a basic understanding of hypnotic language. It's much harder to treat smokers if you are unfamiliar with using hypnotic language in therapy. If you have never trained in hypnosis, we recommend you take our
Hypnosis Unwrapped foundation hypnosis course
first, or at the very least use the
Hypnosis Unwrapped DVD
.
We want you to enjoy your smoking cessation training course, take other courses with us and recommend us to your friends and colleagues. If you don't find treating your next 3 smoking cessation clients after the course a highly enjoyable and effective experience (for both you and them!), just send your course back and we will refund your fee in full. Please note that this is a skills-training course - the decision to practice the smoking cessation techniques with your clients must be your decision based on your own assessment of your capability and experience.
Please order Smoking Cessation through our sister site Hypnosis Downloads »