1 Hour Snake Phobia Cure DVD
The 1-hour Snake Phobia Cure DVD is aimed at professionals looking to add new skills, or increase their ability to treat people with phobias. It contains some amazing footage of Mark Tyrrell, co-founder of HypnosisDownloads.com, ridding one man of his phobia of snakes and changing the man's mindset so dramatically that even when he was later bitten by a snake – his phobia did not return.
See a lifelong phobia cured - with 3-month follow-up after a snake bite!

Our '1-hour phobia cure' DVD demonstrates the rewind technique, which is also known as the 'fast phobia cure'. It's a highly reliable way of re-coding a traumatic memory so that the memory no longer causes post-traumatic symptoms.
The Rewind Technique can be used to treat PTSD (post-traumatic stress disorder) just as effectively as it can phobias.
The DVD also includes the three month follow up, during which the man reveals that he has been bitten by a UK poisonous snake called an adder, but still remains free of his phobia.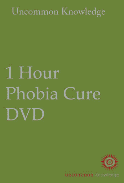 Price: $75.00