Stockholm Syndrome: Loving the chains that bind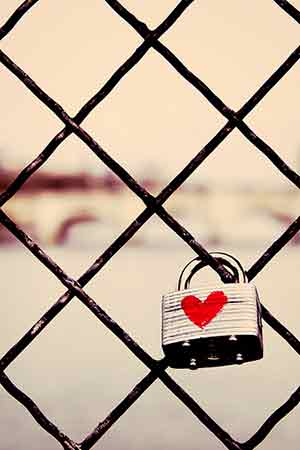 When is love not 'love' at all, but something else entirely?
You and I and everyone else can sometimes become attracted to, 'fall in love' with or sympathize with people or things that may not be at all what we should be attracted to, love or sympathize with. Consider: Is there something - or someone - in your life that other people tell you is undermining you or harming you, but you feel positive feelings, strong affection, sympathy or even love towards?
We can come to 'love' and cherish the very person (or thing) that exploits, abuses or threatens us. This can happen in an abusive relationship, for example. Or when the now grown-up child of abusive parents defends those parents' actions - even crimes - against them, claiming there were justifiable reasons for the abuse.
'Stockholm Syndrome' is the name given to a particular manifestation of this phenomenon - the strange behavior of kidnap victims who eventually become sympathizers with, or even romantically attached to, their abductors. But why is it termed 'Stockholm Syndrome'?
Six days in a bank
Back in 1973 in Stockholm in Sweden, a bank was held siege and some of the employees were kidnapped. They were in danger and they knew it. Amazingly, at the end of the captivity several of the kidnap victims resisted attempts to rescue them and later refused to testify against their former captors. They had somehow come to identify and sympathize with the source of the threat to their personal safety.
Renowned criminologist and psychiatrist Nils Bejerot, who helped the police during this incident, used the term 'Stockholm Syndrome' on TV news broadcasts to explain the behavior of these victims, and the name stuck. There have been other famous cases of the seemingly bizarre Stockholm Syndrome. The most famous of all involved the beautiful glamorous heiress and granddaughter of publishing magnet William Randolph Hearst, Patty Hearst.
How to become an urban guerilla
Just a year after the Stockholm case, nineteen year old Patty Hearst was kidnapped from the apartment she shared with her fiancée in Berkeley, California by the self-styled Symbionese Liberation Army. She was blindfolded and kept in a tiny closet for two weeks and was both physically and sexually abused.
Despite that, the nation was shocked to see pictures of a gun-wielding Patty threatening staff and customers at a bank in San Francisco in April 1974. She claimed her guerilla name was now 'Tania' and that she fully supported the terrorist organization and its aims. She spent less than two years in jail, and was eventually pardoned by President Bill Clinton in 2001. It has been asserted that she, too, was affected by Stockholm Syndrome.
So what is going on here? Why does Stockholm Syndrome happen and how does it relate to you, me and everybody?
Loving the hand that beats us
We become conditioned or 'brainwashed' through emotional intensity. We come to feel that intensity itself is 'important' and even 'profound' when, in fact, it is just intensity. If someone makes us feel strongly emotional in some way or we become connected to them during a time of strong emotion, then that strong emotion may 'glue' an emotional connection in place between you and them. It really can be as simple as that.
Just as a young child whose panicky mother screamed at him when he put a plastic button in his mouth can go onto to develop a terror of buttons, or a woman can feel so much more attracted to a man (and vice versa) when they meet high above the ground on a swinging rope bridge, misattributing the wildly beating heart to attraction rather than danger, (1) so too can we misinterpret the importance of the person who has power over us. We forget that our efforts to obey and please are due to our helplessness, and attribute them to the importance we feel this person has for us.
Relationships and focus
In everyday life relationships go stale if people stop caring so much what their partner thinks; they focus less on their partner. If you are kidnapped, then you suddenly have a very intense focus indeed on whoever has abducted you. What they think and what they do becomes crucially important to you - just as in the first dizzying days of an intense romantic relationship.
When kidnapped, you suddenly have a relationship and it is the intensity and necessary dependence of this, unasked for, situation that can easily tip over into sympathy or even 'love'. And why is this?
Sole provider
The first step towards making someone really dependent on you is to somehow become the sole provider (or at least appear to be the sole provider) of their needs. If you control their need for a sense of safety, attention and so on, and they can, or perceive they can, only get these vital needs from you, then you force an inevitable sense of intimacy and dependency with them. We see the same thing when a love-struck person declares: 'But how can I live without them?'
It may be that Stockholm Syndrome is little more than a regression back to the total dependency role we have as very young children when we rely on parents for everything.
So really there is little mystery to Stockholm Syndrome:
high physiological arousal becomes falsely linked to a feeling of attraction (rather than just a feeling of fear)
a person who is kidnapped is forced into a high level of focus on the kidnapper
high levels of focus are the precursor and mainstay of any intimate relationship.
And when someone has total control over whether our basic emotional and physical needs are met then we develop total dependence upon them. They become 'parental', in a sense, however brutal they may be. We can become grateful for any provision of needs.
All very interesting. But how does Stockholm Syndrome concern you, me and everybody else who's never been kidnapped?
Stockholm Syndrome and you
All psychological phenomena, such as Stockholm Syndrome or, for example, 'cognitive dissonance', illuminate the general human condition that influences us all in everyday life. Extreme examples such as the Hearst kidnapping merely bring common elements of human nature into stark relief. They may seem alien and mystifying examples of bizarre human behavior but they are just the far end of a continuum that we all inhabit.
We can all become, to some degree, attached to people who manipulate or tyrannize us in some way, making excuses to others for their behavior all the while becoming hooked on the intensity of the relationship. In the UK, people queue up to be scorned and humiliated by Anne Robinson on 'The Weakest Link' TV show. Any sign of favor is grasped at gratefully by grown men and women.
The woman who continually dates 'bastards', or the man attracted to manipulative women, the addicted smoker in love with and held captive by his cigarettes - all show the symptoms of Stockholm Syndrome. When we look for patterns, then the Stockholm hostages and Patty Hearst experienced what most humans do, but just in a more public and stark way.
My own view is that such apparently 'bizarre' forms of human behavior are like warning lights. Yes, we should seek to understand why and how they happen in extreme circumstances. But we should not stop there. We should investigate how such behavior might be an extrapolated version of something we do every day. And check whether we want to continue doing that. Or not.
----
(1) Meeting a stranger when physiologically aroused increases the chance of having romantic feelings towards them. It's because of a strong connection between anxiety, arousal and attraction. In the 'shaky bridge study' carried out by psychologists Arthur Aron and Don Dutton in the 1970s, men who met a woman on a high, rickety bridge found the encounter sexier and more romantic than those who met her on a low, stable one. The researchers also found that photos of members of the opposite sex were more attractive to people who had just got off a roller coaster, compared with those who were waiting to get on. And couples were more loved-up after watching a suspense-filled thriller than a calmer film.
Dutton, D. G., & Aron, A. (1974). Some evidence for heightened sexual attraction under conditions of high anxiety. Journal of Personality and Social Psychology, 30, 510-517.
Back to Psychology Articles

Help depressed clients quickly: Free eBook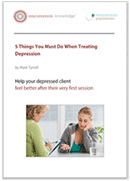 Get '5 Things You Must Do When Treating Depressed Clients' free when you subscribe for email updates.
Subscribe below to get your free eBook instantly:
Your information will never be shared and you can unsubscribe at any time
blog comments powered by

Disqus